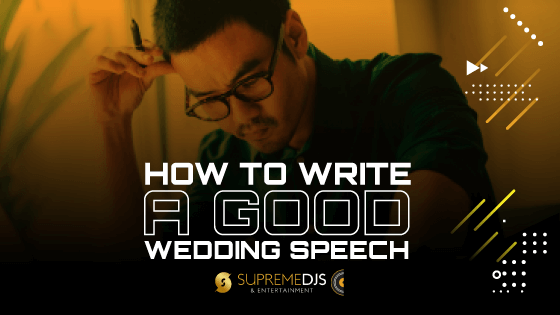 How To Write A Good Wedding Speech
Tips for the Best Wedding Speeches
We know how stressful it can be to write a wedding speech.
The last time you have probably spoken in font of people was back in grade school!
This does not have to be something you are scared of or having trouble doing.
We are going to list out the top 10 tips for how to write a good wedding speech, or any speech for that matter !
Who needs to write a wedding speech ?
Whether you are the Bride, Maid of Honour, Father of the Bride, Best Man or just a happy guest, writing a speech can seem like a daunting task.
These tips will help you get on the path to the most memorable speech!
1. Be You
Remember that you were asked to make a wedding speech because the bride and groom want to hear from you, specifically.
If you're a total cheeseball, they'll be expecting a speech that moves them to tears.
If you're a goofball, they'll be expecting a speech that cracks the room up.
If you try to write a speech in a tone that's not natural, it won't translate well.
So harness your voice, pick a theme, and tie all of your stories and anecdotes to that voice and theme.
The most moving speeches come from a place of honesty and authenticity.
2. Do your research
The goal of a wedding speech should not only be to honor the couple, but to provide guests a behind the scenes look at the couple.
Share how they met, and why they're great together, maybe take some time to go through old pictures to remind yourself of additional stories that are worth sharing.
The best speeches are infused with memories, stories and anecdotes.
3. Practice
Once you have a draft, practice, practice, practice.
Even if you are super confident and used to speaking in front of people, it doesn't hurt to say it out loud.
This will give you the opportunity to get comfortable with the words, ease some nerves, and make changes if needed.
4. Intro's are important
Just because you may know the Bride and Groom doesn't mean the guests will know you, take some time to introduce yourself and how you know the happy couple.
If you have something funny to say off the bat, don't be shy about going for it.
The quicker you evoke something in the audience, the quicker you win their attention and engagement.
5. Its all about Balance
A walk down memory lane can be nice but be careful not to go down too far.
Don't mistake being funny for embarrassing the couple.
It is also important to avoid inside jokes or something that all of the guests would understand.
You can also balance the mood by talking to the DJ @SupremeDJsENT about adding soft music if you're bring sentimental or adding a theme song if you toasted to their favorite show "friends".
6. Keep the objective in focus
The goal of the speech is to say "these people are great individually but even better together".
So remember that wherever you go with your stories they come back to the focus, congratulating the couple and their new life together.
Be aware of the timeline and your audience – sometimes short and sweet is just what is needed.
7. Be mindful of Quotes
If you're going to use a quote, make sure it is a good one.
The more surprising, the better.
Avoid using overly cliché quotes that can easily be found on google.
Dig a little deeper like a lyric in a song, or sentence from a book.
Be unique and find something that relates to the couple.
8. End on high note
Summarize your speech with a statement like "That is why they are a great match".
If you talked too much about one person, balance it out here.
Your final words should be a toast to the couple and their future that leaves guests either cackling or clutching their hearts.
9. Practice Again
Practice makes perfect.
So make sure you are very comfortable reading your speech.
Cue cards are good to bring, if needed.
The more honest, from the heart your speech is, the more natural it is, the more time you spend with it, the more authentic and smooth it will become on their special day.
10. Dont Stress Out
This is supposed to fun, everyone is scared FOR you.
Just be natural and let it flow.
There is nothing to worry about.
Be authentic, and be yourself, and you will do amazing!!! Don't try to be someone you're not.
Hook – Story – Close.
More Wedding Tips
Looking for more wedding tips and tricks?
Please check back for more helpful wedding how to blogs!
Or give us a shout for booking information,
Thanks,
Andrew Lindley