DJ School In Barrie
School For Djing:
Who this is for?
Are you looking to learn how to dj?
Want to learn how to beatmatch and mix but no clue where to start?
If you are in the Barrie area, we definitely do in person coaching and DJ training.
We also have a much more cost effective option that is officially live and ready to go!
Introducing  – TheDJConnect.com
Online School For Djing – The DJ Connect
If you want to save some money and learn from us online, make sure you check out The DJ Connect.
One of the newest school for djing and teaching you the real way to learn how to DJ quick and easily.
Types of DJ School Courses
Are you, you child or anyone you know looking to learn how to DJ?
You will be learning from some of the best DJs in the city ensuring your complete success at this school for djing Barrie!
This isn't a normal class where you learn useless knowledge.
You will learn what it takes to preform.
How to organize crates,
how to beat mix,
The real stuff!
Students will learn proper techniques that are needed to play in the night club, or whatever events you want.
These are the exact same techniques used by professionals world wide.
Being taught on club  STANDARD equipment, nothing will be different causing a subconscious fear of the unknowing.
From beginner to intermediate, we have classes for everyone to take your skills to the next level!
It doesn't matter if you have no previous music knowledge, we will teach it all from the ground up!
The important stuff.
Using only INDUSTRY GRADE EQUIPMENT, which is very important for the day you show up at the club.
Students who learn on different gear, will always have that fear when they show up and have no clue how it works.
We teach with the knowledge that one day you will be at the club and need the preform.
We are completely committed to bringing the highest level of education and what is needed to preform.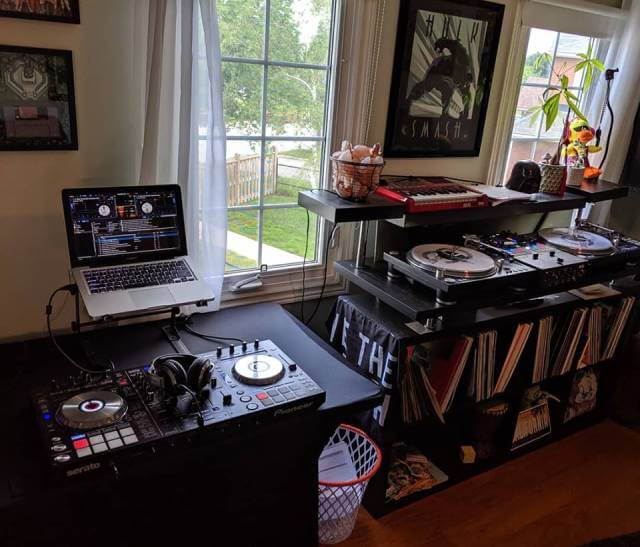 Intro to DJing
The intro course is geared to DJ's just starting out. They will learn music theory, how to beat mix, keys and more!
At the end of the course, all student will have a deep knowledge of the Serato softwareand a Pioneer DDJ SX2 controller.
Students will learn the basics, and by the end of the course they will need to put together their very first mix tape.
The Professional Working DJ School Course
If you are already an intermediate DJ, know what you know and are ready for the clubs this course is for you.
Taking the knowledge from the Intro to DJing course, you will learn what is needed to make you thrive in the night club setting.
How to set a vibe,
how to warm up,
how to OPEN which in itself is a professionally developed skill.
The goal here is the same, but different.
The student will need to put together a 1 hour mix that is flawless.
Learn about sound effects, modulation, keys, vibe and more!
The focus is that the DJ can continuously play and play.
Normally in the club when it's packed you don't even get the chance to go to the bathroom. If you have to, you better run and be back real quick!
Within Serato the effects are endless and a job of itself!
Cue points,
programming,
and mixing music between different tempos
styles or genres.
Learning to play open format is a key necessity as a DJ as most parties are not the same. If you want to learn scratching, we got you covered there too!
The DJ School Course and Lessons
If you are interested in DJing please give us a call and we will show you the true path!
Starting at $150 per hour, but if you are looking for a full indepth course please inquire within!