DJ Story
The Story of How Supreme DJ's Came To Be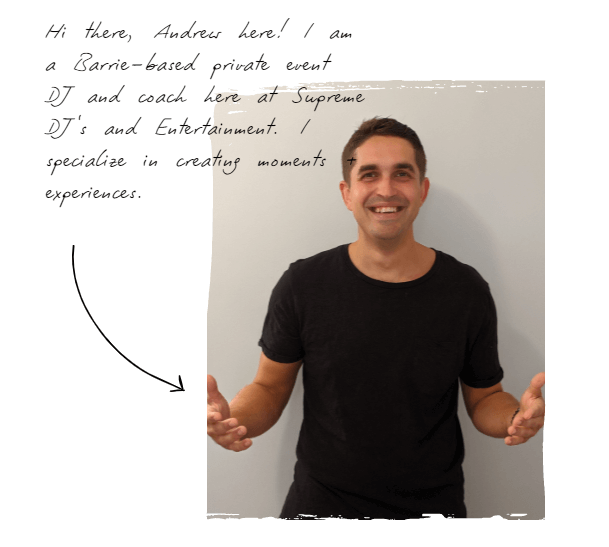 So I recently did a video shoot, and wrote a little script. After showing some people, they all told me I needed to tell everyone!
So here's a little story about how Supreme DJ's came into existence. 🙂
Let me know how the DJ story is in the comments!
—————————————————————
Music has been my heart and soul since I was a kid. Didn't matter what was going on in my life, as long as I had my music, everything was all good. I've been DJing for over 15 years.  I've been working almost every weekend since I was like 19 years old. Long nights, getting home from 4 to 6-7 am, every weekend, then getting right back up and going in to work the next day. Just grinding all day and night. Eventually there was a point where I had enough of the clubs and wondered how I could progress in my career, I was sick of the clubs but I know I couldn't quit, music is in my blood – I've been doing this since I was a kid, there was no way I could just quit. And than I finally figured out I could start doing weddings and private event's and that's when everything finally took off. I was able to quit my day job, finally make this my real career. And because I went from a club DJ, to an event DJ, just gave me a different skill set, I was able to provide a service that was basically unheard of before. I am Truly able to take events to that next level and immediately put myself into a league of my own.
My favourite part of the night is that one moment –  when out of nowhere – the dancefloor just gets packed. There's that one song that just sets the party off. And my goal is just to keep that energy moving the entire night. Have the entire room, everyone just let go and get lost in the music, and just enjoy the moment for as long as it lasts, and not worry about anything else but dancing the entire night away.
Being able to read the entire room is one of my super powers, be able to play music for EVERYBODY. I always like to start super family friendly; I know there are all types of different age's in the room, and than I kind of slowly bridge into the more modern stuff. I love playing mash up's too. You're bringing the old music together remixed with the new. And When you see both the young guys and the old guys nodding their head in unisence to the same song, I know I'm headed in the right direction and were gearing up for a real good night – bringing all the different generations together. Everyone's just going to let loose, relax and have a good time. That's something I'm really proud of and is really rewarding to me.
They say motion creates emotion, and emotion creates memories, so what we are really doing is "creating memories that will last forever for you and all of your guests."
 A party that will never be forgotten.
We Take your expectations and smash them, creating moments and experiences you didn't even know was possible. We pride ourselves in being different than every other DJ company in the world.