5 Reasons Why You Need a Wedding Photobooth at Your Reception
A wedding photobooth is a fun and interactive way to capture memories with your guests on your special day. Not only does it provide entertainment for your guests, but it also creates a unique and personalized keepsake for you to cherish for years to come.
Supreme DJs is the hottest photobooth rental in Barrie Ontario! Make sure to inquire now to confirm date!
There has been many time's at events where a special moment is captured, and you have this treasure that you can cherish for the rest of your life.
In this post, we'll explore why a photobooth is a must-have at your wedding reception.
We have plenty of photobooth wedding rental unit's available.
Whether you are looking for a modern or trendy photobooth, or a very elegant magic mirror photobooth, we have photobooth with props available!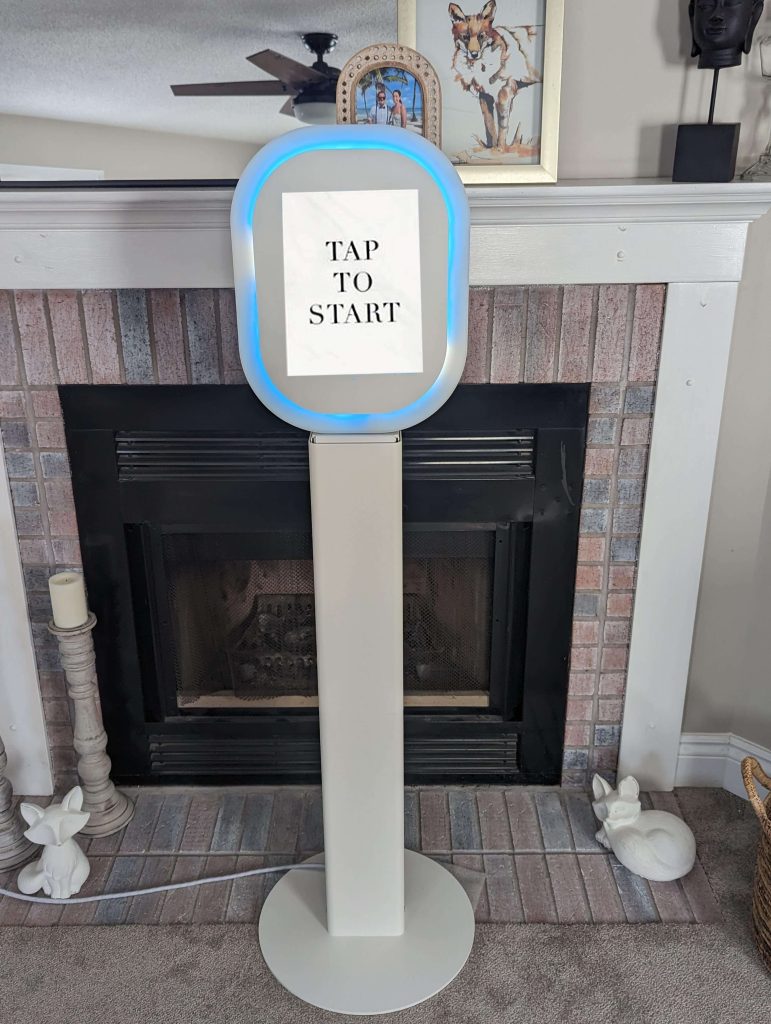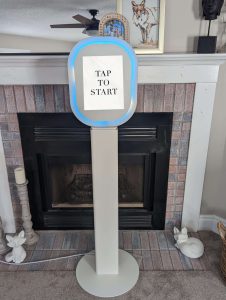 It's a Fun Activity for Guests who need a break.
A wedding photo booth is a great way to keep your guests entertained and engaged throughout the reception.
We will ALWAYS do our absolute best with the music to keep people dancing the night away, but sometime's people just need a break. That's where our photo booth for wedding come's in to play.
As long as you keep the photobooth included with the party, you will have people constantly hoping in and out for funnier and funnier pictures as the night progresses. With our photobooth props a photobooth at wedding can be a  crazy experience.
It provides a fun activity for guests to participate in, especially during any downtime between events.
Plus, guests can take home their photo strips as a fun and personalized keepsake from your special day.
We have photobooth for rent that does both digital photo's and also have the option to have actual print outs of your photo.
There is an extra cost to this so make sure to inquire here to find out how much do wedding photobooth cost?
It Provides Unique and Personalized Favors. (Print Outs)
A wedding reception photo booth not only provides entertainment for your guests, but it also serves as a unique and personalized favor.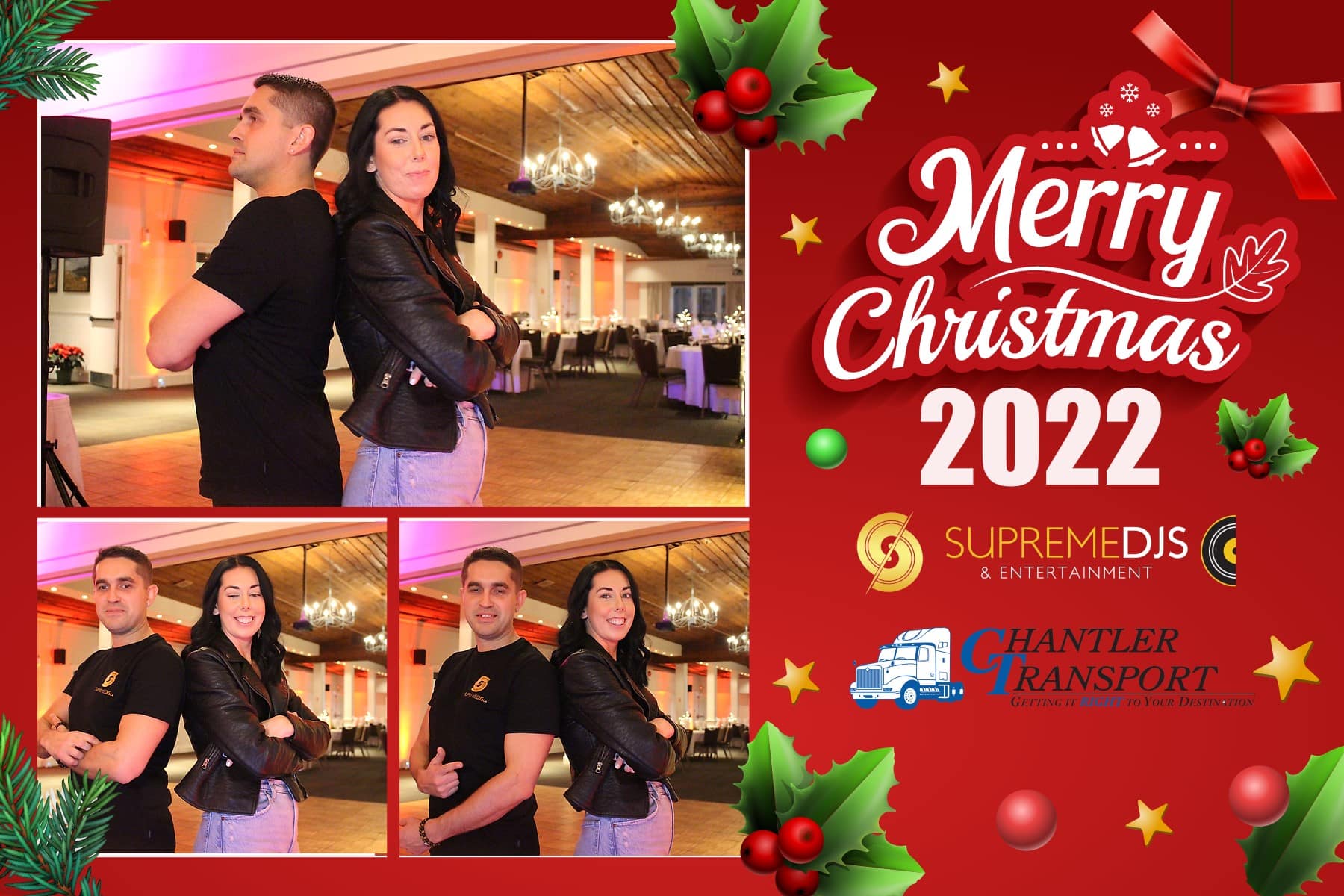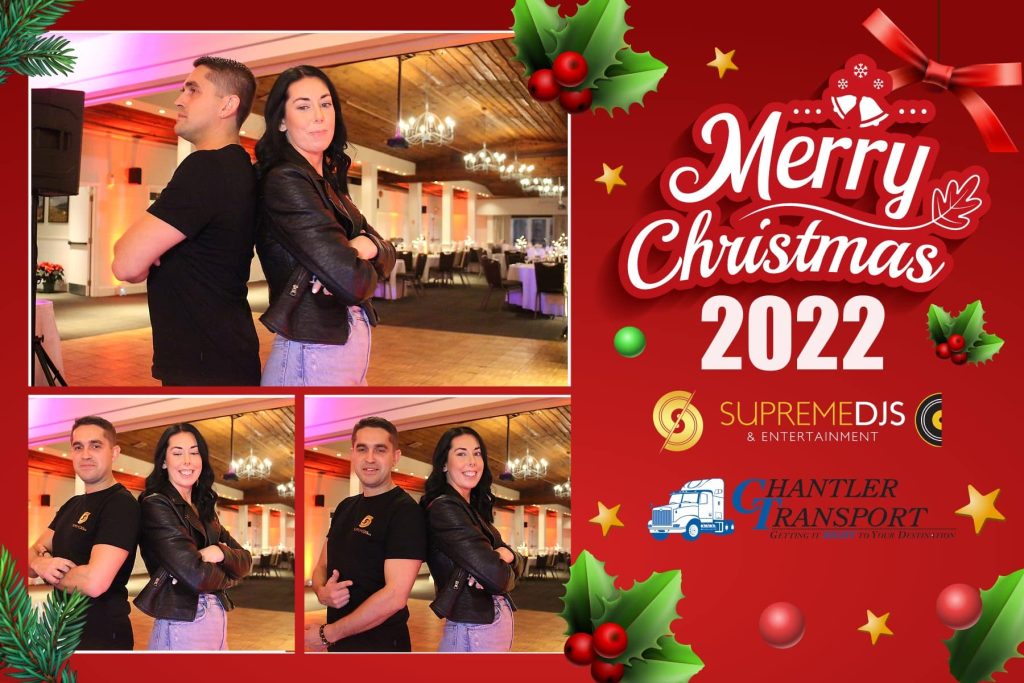 Guests can take home their print out on the spot photo as a fun and memorable keepsake from your wedding day wedding photo booth.
You can even customize the photos with your wedding date, names, or a special message – like seen above at this corporate holiday christmas party.
It's a great way to thank your guests for being a part of your special day and give them something they can cherish for years to come.
Just think about all of the fun you would have from photobooth rental with prints to take home for everyone!
Don't forget! You get to choose your photo booth backdrop along with the photobooth template you want for your picture!
Just type photobooth near me if you're in the Barrie or Simcoe County area, and you will find the best photobooth rental around!
A photobooth to rent Captures Candid Moments. (Believe me)
One of the best things about having a wedding photobooth is that it captures candid moments that may not be captured by your professional photographer.
Let's face it, in Canada, the photographers don't stick around to the party. Most photographers go home at 9 pm, AS SOON AS the party gets started.
Guests TYPICALLY will let loose and have fun,
(don't worry, if they get too rowdy we will step in for you)
resulting in some hilarious and heartwarming photos.
You wouldn't believe how many time's we hear that couples were so thankful for the photobooth mirror,
They got this picture with someone that meant so much and wouldn't normally ever have the opportunity.
These photos will be a cherished reminder of the joy and love shared on your wedding day.
Plus, you can use these photos to create a fun and unique guestbook or display them in your home as a reminder of your special day.
We don't send out photobooths with printers if you are looking for a DIY photobooth or photobooth diy experience,
We only send out our modern and trendy DIY photo booths without prints, as if you get a photobooth frame you will need an attendant to run everything.
It Keeps Guests Entertained During Downtime.
Weddings can have a lot of downtime, especially during cocktail hour or while the wedding party is taking photos.
Or when they have had too much to drink and need to take a quick break from the dancefloor.
These pictures can get a little wild, and are great for incrimination for the future.
A photobooth is a great way to keep guests entertained and engaged during these lulls.
They can take silly photos with friends and family, creating memories and bonding over the experience.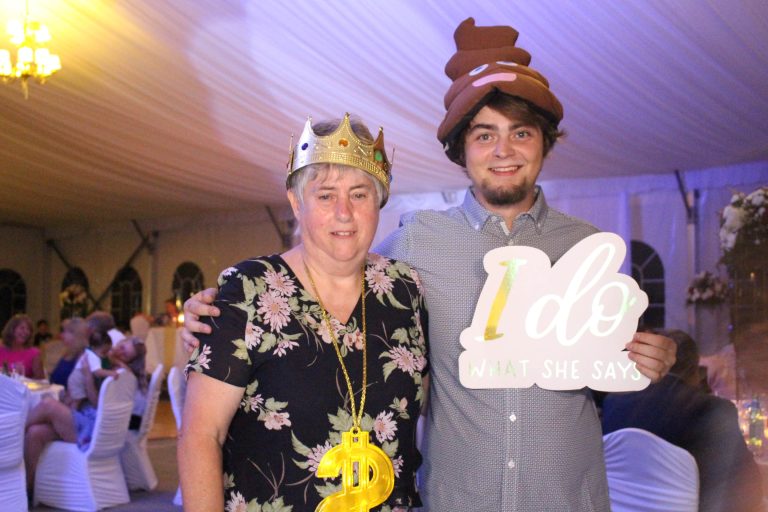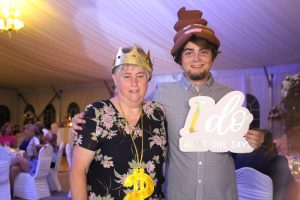 Plus, it gives guests something fun to do while they wait for the reception to start during dinner or any time's when nothing it going on!
Search Photobooth Near Me To Creates Lasting Memories.
These are just some of the photobooth ideas you can use as a great way to capture memories with your guests that will last a lifetime.
Without a doubt this is one of the easiest ways to add more fun to your wedding reception.
Not only will you have professional photos from your photographer, but you'll also have candid shots of your guests having fun and being themselves.
Paired with an amazing wedding DJ, a photobooth truly can change the wedding experience.
These photos can be used to create a guestbook or added to your wedding album, giving you a fun and unique way to remember your special day.
Plus, guests can take home their own photos as a keepsake from the wedding.
Conclusion
Just do it. The best photobooth Barrie rental around.
Create memories,
More fun activites,
A special keepsake!
Capturing candid moments,
Lasting memories,
and more….
There really is no reason NOT to hire photo booth for wedding.
A photobooth rental Barrie is one of the best addon's that will only create a fun and loving atmosphere.
If you are wondering how much is wedding photo booth or when to have photo booth at wedding?
Please feel free to reach out here, just fill out this form, and we can get you setup right away!