23 Songs To Help Loose The Stress While Wedding Planning
So You're Still Planning A Wedding During Quarantine Kind Of Stress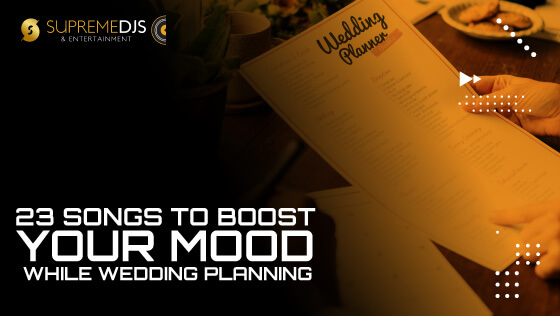 So I don't know if this is a bonus or not? But planning your wedding during quarantine means a couple of good things !
A lot MORE time to plan your wedding,
No massive rushes,
No big lines.
But of course there are plenty of negatives.
There are HUNDREDS of little tedious tasks that still need to get done…
You have to
create all of the invitations,
Get them printed up, good
Stuff the envelopes,
Create and arrange your seating chart,
Even just finalizing your guest list can create overwhelm and become this huge daunting task.
But it doesn't have to be!!!
Next time you have to work on some of these annyonging little jobs, pick one of these songs and it might make your planning job a little bit less tedious.
Crazy enough, you might even find a few extra jobs to get done in the wedding planning !
Commodores – Easy  – An old classic that gets you in the mood to get some work done!
Electric Light Orchestra – Mr. Blue Sky –  I don't think it's even possible to not jump up and dance around anytime this track turns on!
Cardi B – Money – You're probably going to blowing a bit of this, so make thru you throw this banger on and do it in style.
Cher – Believe –  An overall classic wedding song. This for sure will keep you in the mood to keep pressing on!
Carly Rae Jepson – Call Me Maybe – I dare you to find me one person on this earth who doesn't know this song? Perfect wedding planning music!
 Lou Bega – Mambo No. 5 – I have only one question… How in the world does this guy manage to deal with all of these women in a week???
 The Darkness – I Believe in a Thing Called Love – Such a beautiful song that will have you ready to marry the love of your life IMMEDIATELY!
Justin Bieber – Yummy – If you don't like Justin Bieber, I will fight you
Hall and Oates  – You Make my Dreams (Come True) – Literally every single cheesy movie from the past 3 decades uses this song.
DNCE – Cake by The Ocean – Did somebody say DESTINATION WEDDING?!
Lizzo – Cuz I Love You – Lizzo is amazing! She will definitely bring you joy during any wedding planning. Make sure you talk to your wedding DJ about Lizzo as well!
Fifth Harmony – Work From Home –  I was going to make a planning a wedding during covid joke, but I figured we've had enough of that. But the song is fire tho!
DJ Khalid, Justin Bieber, Quavo, Chance the Rapper – I'm the One – This star studded line is is a guarenteed wedding planning party starter, reception party starter. FIRE!
Childish Gambino – Summertime Magic – Just because we need to be thinking of summer to get these weddings started!
Beyonce – Love on Top – Honestly this is one of my favorite Beyonce tracks!
Chumbawamba – Tubthumping – Who remembers this one? You want to get your wedding reception lit up? Talk to your wedding DJ about this classic gem!
Daft Punk – Get Lucky – What a shame that Daft Punk just broke up. This track is an absolute wedding party starter. Put this on a playlist.
Drake – Nice for What – Drake is the man. His tracks are fire. Actually like any Drake. Play drake at your wedding and you will have an amazing night.
Shaggy – It Wasn't Me – Listen bro… If she reaaaaallly caught you on the camera? It was probably you my friend.
The Beach Boys – Wouldn't It be Nice – Take a break from all of the work and definitely just imagine you are on the beach for the honey moon!!
Amy Winehouse – Tears Dry on Their Own – A song from Amy winehouse that you might not have heard yet.
Kehlani  – Keep On – I have a test for you, see if you can play this without hitting repeat.
ABBA – Fernando  – Gear up for all of the amazing abba you will have to play at the wedding reception. Wait…what?
Do you need help planning the music for your wedding reception?
These are just a few fun songs that you can throw on a play list to help cure the blues of all the tedious wedding planning work.
We understand how difficult it must be for you going thru all of the unknowing and the struggle of wondering if your event will even happen.
We have alot of totally free wedding planning guides for you to help ease some of that stress!
Just shoot me an email at drew@supremedjs.ca and I can definitely get them to you asap!