20 Of The Top Mother And Son Dances – Crafted for your mom!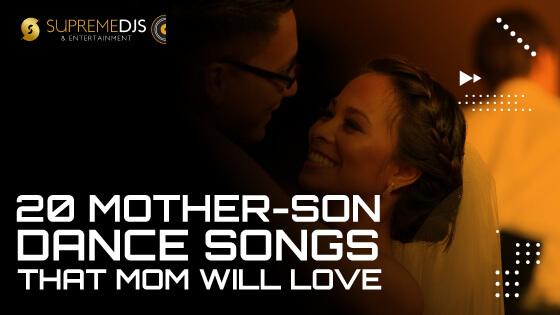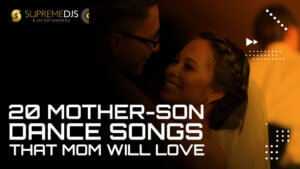 Not sure which song is the best for your mom at your wedding?
Make sure you ALWAYS talk to your wedding DJ about the type of music you are looking for.
There are so many huge moments during your wedding, and alot of these moments need to have the perfect song crafted for that moment in time.
If you aren't sure about which song to choose for your dance with your mother at your wedding, make sure to follow along below!
The Mother Song Wedding Dance
This is such a monumental moment of any wedding night.
This dance is an opportunity for the groom to share with the room how truly in love with his mother he is!
Also a way for him to truly thank her for everything she has done for him
Selecting this song should truly  actually mean something. Put a little time and effort into selecting this song, for your mom.
Always talk to your wedding DJ about all of the options for music at your event.
These moments are very special, so selecting the right music is super important for the flow of your wedding reception in Barrie.
Are you needing a bit more help selecting the most perfect song?
Supreme DJs Barrie is here to help!
Any one of these tracks will be sure to have your mother shedding some tears, of both joy, AND sentimental.
Bill Withers – Lean on Me – Your mom has been there through all the hard times; let her know that you are there for her to.
Morgane Stapleton with Chris Stapleton – You Are My Sunshine – Your mom might have sang this to you when you were in diapers. Salute her by bringing it full circle.
Stevie Wonder –Isn't She Lovely –  An ode to the first woman in your life, as well as the newest addition (??)
Ellie Goulding – Our Song –  The original certainly gets the job done, but something about this remake just hits harder.
The Band Perry –Mother Like Mine –  A country ode to your mother, perfect for a barnyard wedding.
Israel "IZ" Kamakawiwoʻole – Over the Rainbow – For a more light-hearted approach to this traditional dance.
Audrey Heburn – Moon River – If the Heburn version isn't exactly your style, this song had been remade by tons of artists.
The Beach Boys – God Only Knows – A timeless, beautiful love song that hits in all the right places.
Phil Collins – You'll Be in My Heart – Let her know that you;ll always be thinking of her.
Van Morrison – Days Like This
Nat King Cole and Natalie Cole – Unforgettable –  just an all around classic that everyone know's and loves!
Adele – Sweetest Devotion – Adele has tons of hits that are perfect for sharing with your mom on your big day.
Jackson 5 – I'll Be There – this ballad sends the perfect message of "even when I'm not there, I'll always be there for you."
Carole King – Child of Mine – King's powerful lyrics won't leave a dry eye in the house.
Lynyrd Skynyrd – Simple Man – Always listen to what your mom has to say.
Louis Armstrong – What a Wonderful World – This calming song will let you forget everything around you for just a minute.
Iron and Wine – Time After Time   – a new take on a classic hit that is slowed down and perfect for the occasion.
Billy Joel – Just the Way You Are – Because your mom always accepted you just the way you were.
Queen – You're My Best Friend – For all those mama's boys out there.
Jack Johnson – Home – For the sandal wearing, chill vibes, Jack Johnson lover.
Make sure to always talk to your wedding DJ before selecting songs.
Supreme DJs and Entertainment is located in Barrie Ontario,
We are the number one wedding DJ service in Barrie and would love to help serve you on your big day.
Make sure to contact us now to check for our availability here!!!