15 Hip Hop Tracks to Drop For A Party Wedding Reception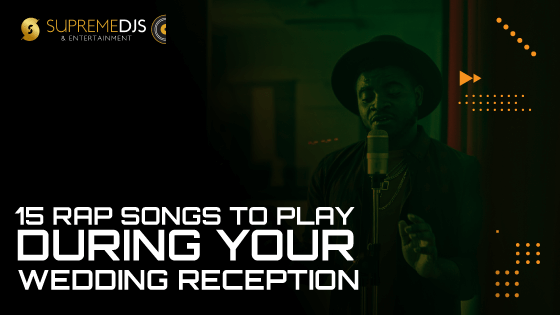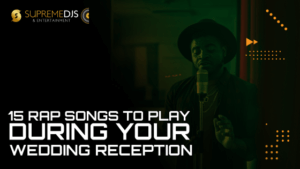 The Wedding Reception Is Happening Soon
You've had the most amazing day possible.
All the perfect pictures, your wedding ceremony was amazing but it has came to a close.
It's dinner time and you are hoping that your wedding DJ will play all of the best tracks…… But you didn't talk to your wedding DJ before hand….
With all of the photo's wrapped up, and dinner coming to a close,
The time of your life is minutes away….
You are ready to start the party, and with that, comes DANCING!
But is your wedding dj going to play any of the music you even want?
Are you worried the DJ isn't going to play ANY of the music you want?
This is where Supreme DJs comes in.
We know the best music that will get everyone up and dancing.
And you might be a little worried, but sometimes hiphop can be the best dancefloor filler.
Upbeat, catchy, simply irresistible to dance to.
Your group will be loosened up in no time.
Don't be afraid that the older people will be mad,
There is music for everyone of all ages !
Check our list of the top 15 floor fillers, to get your party pumping in NO time!
Hip Hop Wedding Reception Floor Fillers
Doja Cat – Juicy – Anyone ask for a wedding tik tok banger?
Kendrick Lamar – LOVE – Love Kendrick? This is one of his top tracks for everyone !
Snoop Dogg – Gin and Juice – An old school cult classic, everyone knows the one, but theyll be drinking wine + champagne
Drake – In my Feelings -I don't even need to back this song up, everyone knows it.
 Dr. Dre, Snoop Dog – The Next Episode – Talk to your wedding DJ about potentially cutting OUT the "SMOKE WEED EVERYDAY" or don't 🤷
Missy Elliott – Work It – I'm pretty sure it's against wedding etiquette to not play this banger
DJ Kool – Let Me Clear my Throat – This can be played at any moment of the night, to literally set the floor on fire
Kanye West – Through the Wire – I know not everyone is a fan of Kanye, but his music can change the emotion of a room in no time.
Nicki Minaj – Anaconda – Anyone remember this BANGER, that literally broke the internet? Ya, me too…
Cardi B – Money – Ladies love Cardi B…. Enough said…
Post Malone – Circles – This is a catchy track that brings EVERYONE to the dancefloor. Definitely works for all ages!
Megan Thee Stallion – Savage – Are you into TikTok? If yes, this is a no brainer. Show off your dance skills to this heat.
Nelly – Hot in Herre – Millennials around the world rejoice when they hear this song. Actually, everyone does. No brainer.
Fetty Wap – 679 – I'm sorry, but this song should be played at every wedding reception, party or event in the world. Floor filler
Calvin Harris – Feels – Super catchy pop track. Everyone knows it, dare you not to sing along.
These are just a few of the dopest hip hop tracks that will set your floor on FIRE
Make sure you talk to your wedding DJ  about playing the music you actually want.
Are you worried that the DJ will only play what he wants?
Are you scared that your DJ will suck and play nothing but boring music all night?
Make sure you give us a shout and we guarantee to create the wedding reception of your dreams.
We are the top rated DJ service in Barrie / Toronto.
Do NOT make the same mistake of getting a boring, average, wedding DJ!