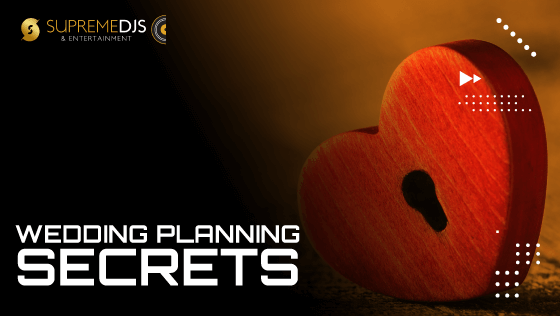 10 Wedding Planning Secrets To Having A Perfect Wedding
We've been doing events  for a LONG TIME.
Wedding planning is something we picked up on the ride!
We have learned alot of the do's and don'ts of what to do at your wedding.
So we are dropping the 10 best wedding planning tips for 2020!
All of the stress and issues that come when planning a wedding, and some of the pitfalls that you can easily avoid.
Lets get into the 10 top tips for planning the most PERFECT WEDDING RECEPTION EVER!
Planning your event
So you've found the one, you've picked a date, and now its time to plan. Here are a list of our favorite things we wish someone told us!
If you're wedding planning in Barrie, Ontario – give us a shout at Supreme DJs and we can hook you up with the best planner in the city!
1. Who to Invite?
Guests are almost the very first thing you should think about. Get a handle on the number of guests you want to invite before you look at venues. A nice rule of thumb, allow for 25-30 square feet per guest. Most venues will also have a maximum guest count.
2. Consider your date.
Make sure that the date you have picked doesn't collide with a busy holiday, local event, charity or conference that could affect traffic or hotel availability.
3. Budget and Credit
It is important to have a rough budget number so that you can put yourself in contact with people who are not in your budget.
Also, a helpful tip is to take advantage of the high cost of weddings and sign up for a credit card with a rewards program.
Whether it gives you airline miles or great shopping deals, consolidating all wedding-related purchases to this card will help you accumulate thousands of rewards points (which could be used for your honeymoon).
4. Re-evaluate your guest list.
The easiest way to trim your wedding budget?
Cut your guest list.
Remember, half of your wedding expenses go to wining and dining your guests.
If it's costing you $100 per person, eliminating one table of 10 can save you $1,000.
5. Network with vendors.
Let one vendor lead you to another, your photographer may know of a florist that is strong in making flowers pop in photos. Your DJ may know of really great catering company.
At Supreme DJs, we have some of the best vendor partners in Barrie ON!
And without a doubt the BEST DJ SERVICE IN BARRIE!
6. It doesn't hurt to ask.
Ask your venue for an extra hour for cocktails or negotiate with your vendors to personalize your experience before you sign on the dotted line.
Most vendors want to secure the deposit and will try to make it work.
Asking later may cause stress as they may be less inclined to make things work.
7.  Bar Tip
Typically, you need one bartender per 50 guests to keep the line at a minimum. But if you're serving a signature cocktail that cannot be made ahead of time (or in large quantities), consider adding an extra server designated to this task.
8. Prepare for Rejection, it happens.
Know that as a rule, about 10 to 20 percent of the people you invite won't attend.
Naturally, this depends on the location of your wedding (destination weddings are harder to attend), how many out-of-towners are on your list, and the timing of the event (some guests may have annual holiday plans).
9. Plan Setup and take down.
You must make sure there's ample time for setup.
If you're renting a venue and bringing in outside help, ask what time people can come in to start setting.
See if they can do it the day before, or at the very least the entire wedding day, before the event starts.
Also, make it clear what time things need to be cleaned up and if you need to hire someone to do that.
Most venues have back to back weddings so make sure you don't have to wake up early the next day to take down all your setup.
10. Keep track of important contacts.
Keep an emergency contact sheet or phone with your vendor contacts on you on your wedding day—it may come in handy in case your limo driver gets lost or you decide you would like your photographer to take some behind-the-scenes shots. Ultimately the key to this day is to be in the moment and have fun! These tips will hopefully guide your day to be as stress free as possible.